03 Dec

HOT Nordic/Baltic Tech News, Events and Opportunities

🍁Hello and Welcome to our newsletter…🍂 Christmas is fast approaching and hopefully, so is the light at the end of the COVID tunnel. As much as we have loved attending, and partnering with, the many online conferences and events this year, we have also missed being together as a community – planning, deal making, socialising and visiting new tech hubs. Let's hope that 2021 brings us face to face once again, in a safe and inspirational environment, with old and new friends.

Talking of new friends – we have been busy doing what we do best – creating new partnerships, connecting ecosystem players, facilitating change (that many just talk about!) and taking action to help make the "New Nordics" (Nordics and Baltics) THE place to launch and grow your business. More on that below…
---
FIRST UP STARTUP/SCALEUP GROWTH SUPPORT:
FREE HELP TO GET YOU THROUGH COVID-19 AND BEYOND
Startups, Scaleups and the entire ecosystem in Denmark can all get direct help with any challenges you face as a result of Covid, through our Startup Ecosystem COVID-19 Resource Hub  – our digital one-stop-shop, offering access to advice,  investors, mentors, partners and resources . Get in touch via the link – no problem is too small or too big… get in touch and we will help you at no cost! How's that for an offer?
---
FUNDRAISING? JOIN THIS SESSION AND LEARN HOW TO WRITE A KILLER PITCH DECK – IT'S A MUST!
On Friday Dec 11th 10.00am CET, we're running a live training session on "How to write a killer pitch deck" – TNA's CEO, Startup/scaleup growth mentor, EU Accelerator Advisor and Funding Application Assessor, Jeanette Carlsson, will present the ultimate expert guide on what you should (not) cover when trying to attract investment. There will also be time for Q&A so you can get your own questions answered. Details and sign up here.
FUNDRAISING FEMALE FOUNDERS: JOIN "TNA TALK" WITH FEMALE FOUNDER FOCUSED INVESTOR PRIYA GUHA, MERIAN VENTURES, LONDON   
TNA Talks Episode 4 – Priya Guha, Venture Partner at Merian Ventures joins us to discuss her work supporting Female Founders with investment, UK opportunities for Nordic companies post-Brexit, and about her time as the British Consul General, in Silicon Valley. Watch the video and subscribe to your YouTube channel here
💰 Fundraising? Did you know we offer a Startup/Investor Scouting Programme, connecting fundraising startups/scaleups with suitable investors from our network for a % finders fee? Right now, we're working on rounds for PropTech, TravelTech and FoodTech companies. If you're a startup/scaleup raising funds, get in touch here OR if you are an investor looking for deal flow, please get in touch.
💡 Could you do with a Mentor? Did you know that we offer a global mentoring programme matching our members with mentors across the globe from our Global Tech Advocates network, spanning 16 tech hubs globally? Join today (Solo membership or Business Membership) and get access to top quality mentors across all continents, who can help accelerate your growth.
FINTECH COMMUNITY: WANT TO UNDERSTAND REGULATIONS IN THE SWEDISH FINANCIAL MARKET?
LISTEN IN ON THIS HIGHLY ENTERTAINING PODCAST

Robert Karlsson and Caroline Landerfors of Magnusson are delighted to introduce "Regelrätt" (which can be translated as "following the rules"), a specific and highly entertaining podcast about regulations in the Swedish financial market. (Podcast in Swedish) Listen here
NEW PARTNER TO SUPPORT YOUR GROWTH : 
  As we ramp up in Finland, we're really excited to announce our collaboration with Nordic Startup School, part of Nordic Startup Ventures, Finland, led by Tomi Terentjeff, who brings his Silicon Valley experience and networks to support startups and scaleups through what he intends to be 'the best program for pre-seed startups in Europe' as well as a great 'after school' helping high performing scaleups expand and grow in international markets in collaboration with Tech Nordic Advocates. We're really looking forward to this partnership.
"Nordic Startup School welcomes Tech Nordic Advocates to Finland! NSS is hoping to create more collaboration on not only Nordic-level but on the European level as well, to help startups grow and scale faster internationally. With TNA, we are creating one of those bridges, since we work together for a better startup ecosystem in Nordics."
---
LATEST NEWS FROM OUR LEADERS – YOUR GROWTH SUPPORTERS ACROSS THE NORDICS/BALTICS
 Also with our ramp-up in Finland, we welcome to our Board Tommo Koivusalo – Head of Unit at NewCo Helsinki. Tommo's background in the tech scene as a co-founder, lecturer, MD and program manager brings a great mix of skills to our board. Tommo and his NewCo team's work is focused on helping Helsinki startups get off the ground, grow and scale including internationally.
Tommo says:
"I'm happy to welcome Tech Nordic Advocates to Finland, delighted to join the TNA Board and looking forward to further collaboration. Helsinki aims at being one of the most fascinating cities to found new business and we are ona  constant basis looking for partners who can bring value to the local tech/startup ecosystem. In this aspect I see great potential in TNA's strong network."
Our Chair, Stine Bosse, chaired a debate with Margrethe Vestager, European Commission – Executive Vice President and Competition Commissioner, on the next digitalisation wave: incl. how we build large techs in Europe, the European green agenda and how we can support non-digital companies.
Our Board Member for Norway, Susanne Hannestad, has been busy in November including as moderator at the Mastercard Lighthouse Day – Grand Finale 2020 on the 19th November together with Slush and Rockit.
Check out also the Fintech Diversity Promise interview with Susanne. Launching in 2021, Findexable is launching the Fintech Diversity Radar – the world's first global platform gathering progressive data on women in fintech to understand their impact and contribution to the digital economy as we begin our recovery from Covid-19.:
---
TALLINN, ESTONIA NOW THE 12TH BIGGEST STARTUP HUB IN EUROPE
 While in previous years, Tallinn wasn't even part of the TOP 15, this year, the capital of Estonia turned out to be the 12th biggest startup hub in Europe…and as our #Baltic Board member Elvira Tulvik reminded us the other day, with 5 Unicorns to Estonia's name! Wow! That's awesome. Take a look at this.
---
NOT TO MISS EVENTS… 
Looking to expand into Japan? Missed today's event with Invest Tokyo, Nordic Innovation House Tokyo and newly crowned Unicorn company ChainAnalysis discussing their expansion into Japan? You can find a recording of the event on our youtube channel
Singapore FinTech Festival: 7-11 December.
SFF is the world's largest and most inclusive FinTech event that brings together heads of state, financial and technology leaders, FinTech founders, policy makers, investors and multilateral agencies. Last year, the week-long event brought together over 60,000 attendees from 140 countries. This year is going to be bigger – with events in over 40 FinTech Hubs, worldwide. Tech Nordic Advocates and Tech Singapore Advocates are partners.  Learn more and get your ticket here.
Tune in for free on December 9th with our partners, The One Initiative, who's event will feature all things "Impact Investment". Impact Investments are made with the intention to generate positive, measurable social and environmental impact alongside a financial return. As part of their event, this year The One Initiative will launch 'Impact Report Nordic Investors 2020'. After the presentation of the key findings the panel will reflect on and debate the report.
Join here – https://www.oneinitiative.org/the-summit-2020/
---
GLOBAL TECH ADVOCATES (GTA) NEWS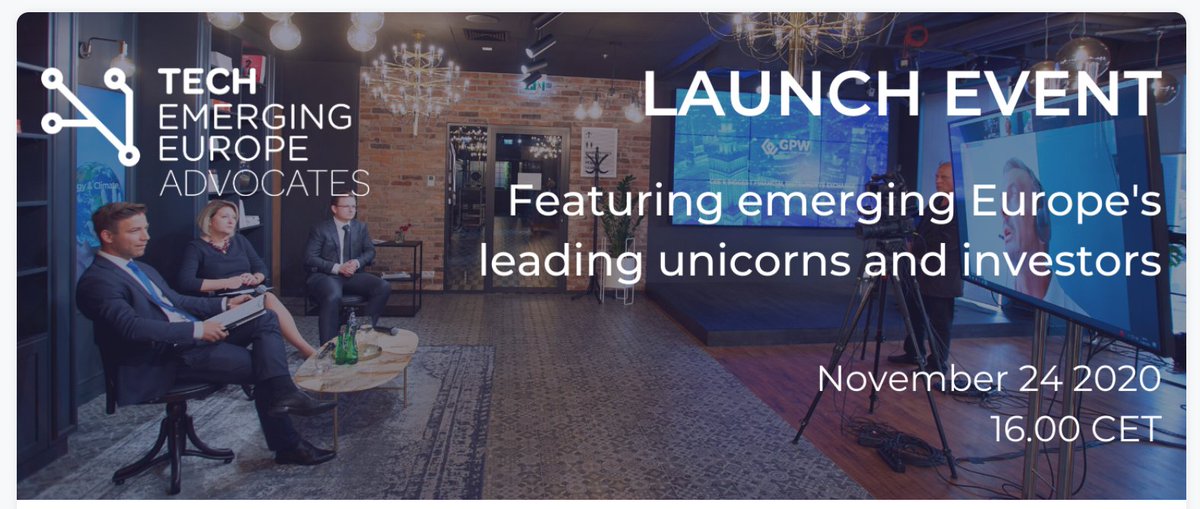 Last week, we added our 18th global tech/startup hub to our Global Tech Advocates (GTA) family: Tech Emerging Europe Advocates (TEEA) covering 25 countries. GTA founder, Russ Shaw, former President of Bulgaria Rosen Pleveliev, TEEA founder Andrew Wrobel, kicked off the launch. Our CEO and Founder of the first non-UK GTA tech/startup network, Jeanette Carlsson was an expert speaker sharing how community, networking and international collaboration is the only way for true business success
"Central and Eastern Europe today offers huge opportunities," said Rosen Pleveliev, former president of Bulgaria and chairman of the TEEA Advisory Board. Watch the discussion with the GTA Leaders from TEEA, Tech Bay Advocates, Tech Shanghai Advocates and our Tech Nordic Advocates Founder here