01 Mar

IMPORTANT TECH NORDIC ADVOCATES NEWSLETTER

Hello Advocates, Business Members and Friends,

What a fantastic start to 2018! We've played key roles at inspiring tech events such as TechChill, Riga;Tech London Advocates/City of London Corporation FinTech Roundtable,Tech BridgeSweden-UK  and more. This month's newsletter features updates from those events, welcomes new business members, shares news from some of our existing members, and provides an important update to your TNA membership terms and conditions. Finally, we are HUGELY EXCITED to share details and sign-up to our forthcoming "Best of Nordic & Baltic Tech Summit", 13 June in London, as part of London Tech Week.  

Firstly,

Updates to your TNA Annual Membership
With our rapid expansion across 8 countries, from our network  (700+ Advocates and growing rapidly), event programme, launch of collaboration platforms to support TNA working groups (verticals), innovation acceleration and investor collaboration programmes, as well as Advocate support, it has become necessary to introduce a small Advocate (non-Business Member) membership admin fee of €125 per annum. New Advocates joining us in February have already paid their annual membership fee. Existing Advocates will receive an email from the Secretariat with details of how to pay in the coming week.
Please ensure you pay promptly and latest by 31 March.

As reminder:  Key Tech Nordic Advocates member benefits:
Access to the only existing pan-Nordic/Baltic tech leader network: Continued access to Northern Europe's largest – and only existing pan-Nordic/Baltic – network of 700 tech leaders from startup/scaleup founders to investors, accelerators, mentors, tech/startup hub leaders, experts and influencers from the 5 Nordic & 3 Baltic countries*
Access to the world's only global tech leader network: Access to Tech Nordic Advocates' Global Tech Advocates global family of thousans of tech leaders from Silicon Valley to London, Nordics/Baltics, rest of Europe, Singapore, China, India, Australia and New Zealand. Launching soon: Paris, BeNeLux, Bogota and Russia
Personal profiling/branding: Unique opportunity to appear in Tech Nordic Advocates directory of Nordic/Baltic tech leaders for all to see
Events: Free access to Tech Nordic Advocates action-oriented events across the Nordics/Baltics and the UK (non-members pay a standard event pass fees)
Digital/tech talent and career opportunities: Unique access to top digital/tech talent across the Nordics/Baltics
Working Groups (verticals): Access to Tech Nordic Advocates working groups and pan-Nordic/Baltic business opportunities
Collaboration Platforms: Access to Tech Nordic Advocates' working group (vertical) networking and collaboration platforms
* For definition of 'Tech Nordic Advocate' and 'Tech Leader', click here:
What happens if I don't pay?
Sadly, there's no such thing as a free lunch. If you don't pay, we'll assume you no longer wish to be part of Northern Europe's largest tech leader network and enjoy the above benefits. Not fair on paying members otherwise, is it? If you're a startup and can't afford to pay, please email theSecretariat 
"Best of Nordic and Baltic Tech Summit ", 13 June, London (Part of London Tech Week 11-17 June)
Ever been to London Tech Week – Europe's biggest tech fest attracting 50,000 + tech leaders from around the world for a week mid-June? If you haven't don't miss it. This year for the first time, Tech Nordic Advocates in collaboration with Tech London Advocates, Global Tech Advocates, FinTech Hub (Stockholm); Helsinki FinTech Farm and many other Nordic and Baltic startup ecosystem and national organisations are bringing the Nordics/Baltics to London Tech Week to show the global tech/startup ecosystem the "Best of Nordic and Baltic Tech" with focus on fintech and key technologies such as AR, VR, AR, Blockchain, Cryptocurrency, Cybersecurity etc., where the Nordics/Baltics have a genuine competitive advantage. The Summit will convene 150+ Nordic, Baltic, UK and global tech/startup ecosystem leaders to get the Nordics onto global investor radar screens and attract investments and startup capital to the Nordics/Baltics, help Nordic/Baltic startups/ scaleups expand beyond our home region, and highlight key investment opportunities in the Nordics/Baltics to UK and global investors, accelerators and partners. For the full programme and tickets, click here:
Recent Events:
Tech  Bridge Sweden-UK, 22 February, Swedish Embassy London
On 22 February, his Excellency Torbjörn Sohlström, Swedish Ambassador to the UK hosted an excellent event on what lies ahead for Sweden and UK tech collaboration with focus on the role of politics, with a distinguished panel of speakers including:
Mikael Damberg, Minister for Enterprise and Innovation, Sweden
Matt Hancock, Secretary of State for Digital, Culture, Media and Sport, UK
Linda Griffin, Global Director of Public Policy, King (Candy Crush Saga)
Niklas Zennström, Co-Founder of Skype and Atomico
The debate was lively – see Twitter @technordicadv for details.
From left to right: see bullets above
TechChill, 8-9 February, Riga, Latvia
The startup season began in Riga with TechChill – the leading tech event in the Baltics for promising startups, global investors, executives and tech enthusiasts to celebrate innovation and entrepreneurship. It was an incredibly busy few days for our Tech Nordic Advocates team, with our founder Founder Jeanette Carlsson moderating a session at the Tech Ecosystem Summit (pre TechChill side event) on how we can improve collaboration and support for startups across the Nordics/Baltics and speaking at the main event on "Building Blocks of Tech Ecosystem". We had heavy traffic on Tech Nordic Advocates' stand throughout the two days, and meet a huge number of inspiring people and organisations.  Thank you for dropping by and talking to us.
Upcoming events
Next up:
Medico Bazar, 7 March, Copenhagen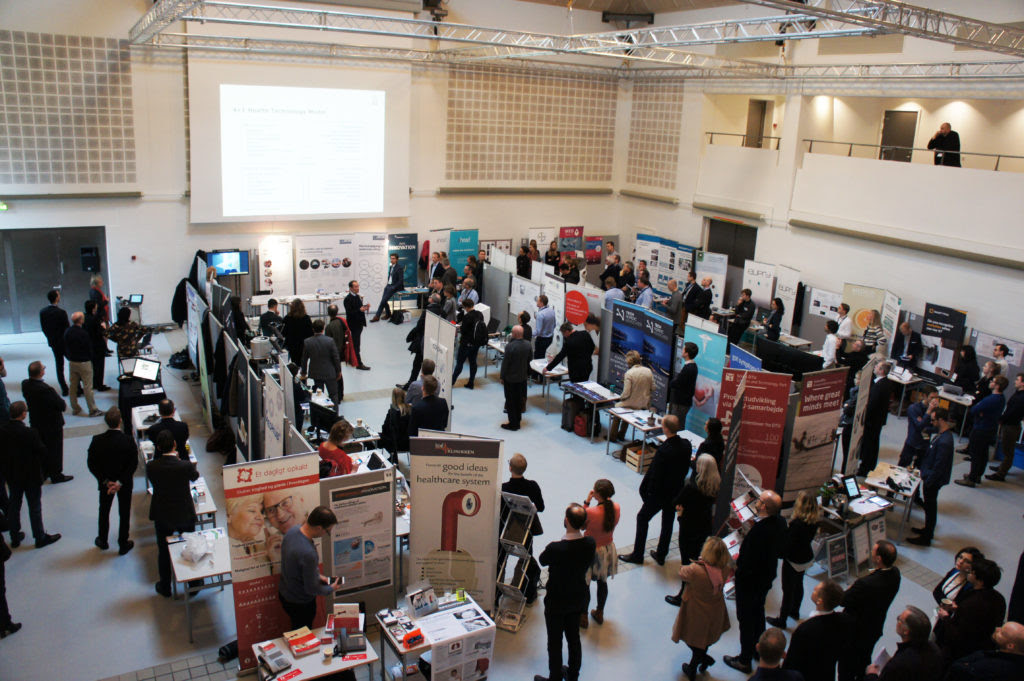 Medico Bazar displays the newest devices, projects and prototypes within medical technology at different stages of development. It also provides information about entrepreneurship opportunities, project development and financing.
Come join the TNA Health Tech working group and drop by for a chat at the TNA stand. For more information visit the website here.
Smart to Future Cities, 25-26 April, London
Tech Nordic Advocates Founder Jeanette Carlsson will be Chairing Day One of this super smart city event, moderating what is sure to be an incredibly interesting panel on New Opportunities in Funding and Partnerships., and presenting our very own Nordic/Baltic/UK #SmarterCitiesNOW cross-border collaboration programme to a large international audience. Delighted to see a programme with many TNA/ #SmarterCitiesNOW members and Nordic/Baltic speakers. For access to TNA discounted tickets please email info@technordicadvocates.org
We are very much looking forward to joining many more exciting events in 2018 for more info on how you can get involved see our events calendar here and a taster of upcoming events below.
Warm welcome to new business member Pleo
We are delighted to welcome as new business member and Tech Nordic Advocates business partner Pleo, leapfrogging the way businesses in Denmark and the UK manage company spending by automating the age old process of expenses and bookkeeping (see link for details).
Says Håkon Junge, Pleo: "As a Tech Nordic Advocate, I'm excited for this new business partnership supporting the mission to get Nordic startups on the map"
News from some of our existing business members
Invesdor
Invesdor would like to share the following updates from their blog:
https://home.invesdor.com/en/blog/common-funding-fears-how-do-you-manage-lots-of-shareholders
https://home.invesdor.com/en/blog/shares-should-include-voting-rights
JA Kemp
How to Protect and Exploit Pharmaceutical Intellectual Property
We are delighted to announce that J A Kemp is hosting its third Intellectual Property Symposium in Copenhagen at the Clarion Hotel, Copenhagen Airport on 19 June 2018. Talks and workshops will address the key issues currently affecting pharmaceutical innovation in Europe and across the world. We will be discussing ways to protect and exploit your IP and J A Kemp's attorneys will be on hand to provide free one to one advice. Lunch and refreshments will be provided during the day. A drinks reception will follow at4pm. Click here to register.
Latest from the Working Groups
Smart City
See above for details of "Smart to Future Cities", 25-26 April, London – where we will feature our very own "SmarterCitiesNOW Collaboration Programme"
If you've yet to join the only pan-Nordic/Baltic/UK smart city/sustainable urban collaboration network around, then hurry up and join the #SmarterCitiesNOW networking and collaboration HUB today. Sign up here.
Health Tech 
For more details on upcoming Health Tech events, including Medico Bazar check out our events page here.
If you would like to join the TNA Health Tech Working Group and the Health Tech Working Group Community Platform, to connect with other Working Group members and collaboration initiatives, please signup here.
DON'T FORGET – If you're already a Health Tech Working Group member, you should already have access to the Health Tech Working Group Community Platform.  Please accept the email sent to you. For any queries contact the Secretariat.
Food Tech 
To signup for our FoodTech collaboration hub please click here.
FinTech
FinTech working group members attended a FinTech Roundtable on Fri 2nd February, co-hosted by City of London Corporation and Tech London Advocates.
To signup for our FinTech collaboration hub please click here.
TNA Media Partner – The Nordic Web
The Nordic Weboffers exclusive, original, data-driven insight on the Nordic startup scene. See the TNA Blog for the latest newsletter.
Our Global Tech Advocates family
Access to our Global Tech Advocates network
As ever, if you haven't already done so, register here to join Profinda – your gateway to our Global Tech Advocates family.
Help us grow Tech Nordic Advocates and the Nordic and Baltic Tech Sector
Help us grow further by recommending your tech leader friendsto: 
info@technordicadvocates.org
Don't forget all the latest news from across the Nordic/Baltic tech scene is available on our BLOG